We are delighted to announce that Mariela Sancari will be speaking at Photobook Bristol 2016.
Mariela is best-known for her great book, Moises (which she launched at Photobook Bristol 2015 - we knew it was good from the start!),
Moises was certainly one of the most interesting books of 2015 both for its content and its form. It's a book with a story, a difficult story, but Mariela tells it beautifully.
In 1990, when Mariela was 14 years old, her father (the Moises of the title) killed himself in Argentina. It was a devastating loss, a loss made even harder by the fact that Mariela never got to see the body - the casket was closed, she wasn't allowed to see the body (which, according Jewish burial law is seen as 'contaminating'). He was buried without her ever seeing him. There was a double loss, the loss of a father, but also the loss of the possibility to grieve, to look at him for one last time, to finally know who he was.
So he died with Mariela never knowing who he was. His memory faded and there was no grieving process
(and you can read about photography, grief and the importance of seeing the body here)
to cling on to. In her young mind, her father was a mystery, a mystery that grew darker and more sorrowful as she grew into a young woman.
That's why she made the project, as an attempt at closure, as a way of re-knowing the father that she had lost, whose personhood had been stripped away by the act of not-seeing.
To start the project, Mariela put a small-ad in local newspapers in Buenos Aires. It showed a picture of her father and asked for volunteers to come forward who looked like him, who would be the same age as him if he had lived.
And so people came forward and Mariela photographed them; they are simple portraits, but show these men dressed in the clothes of Moises, clothes that somehow still remained due to this state of non-grieving. The faces of these men bear the marks of age, of defeat, of sadness, and resignation. The end picture shows one man combing Mariela's hair, the ghost of her father present in that action, the grieving somehow advanced through the very act of making the work, of making the book.
It's a very moving book, in a way that few other books are ( L'Amoureuse by Anne de Gelas is less well-known but equally moving). What marks it out is the way it has been made, as a gatefold where the pages merge into each other, where the matter-of-fact portraits of these sad-looking men merge one into another, where there's a beginning and an end, where the emotional complexity of the story is told through the apparent simplicity of the finished work.
She makes it look very easy. But it's not.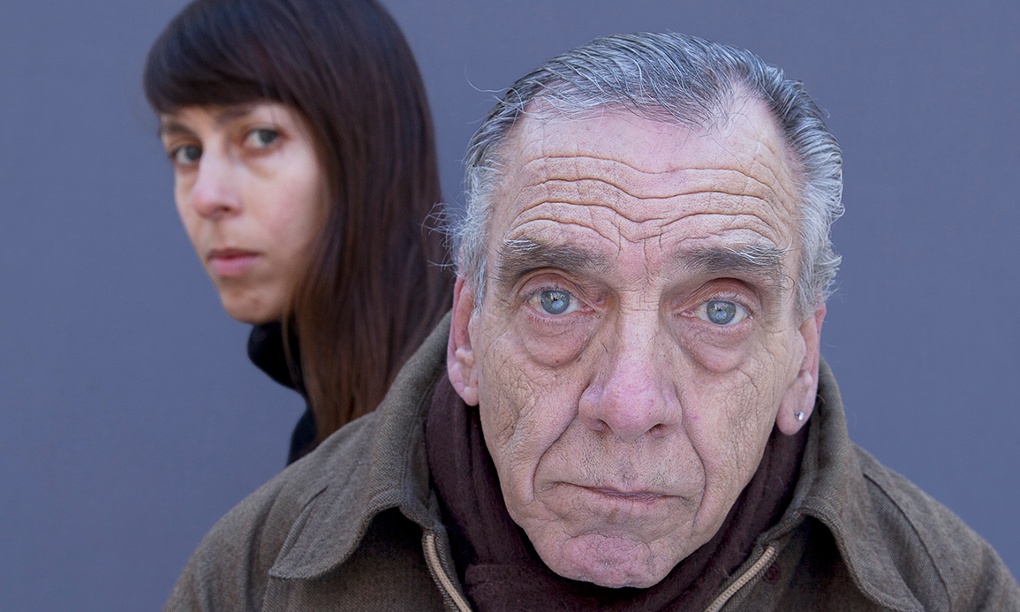 More on Mariela Sancari here
See L'Amoreuse by Anne de Gelas here.
Mariela is one of many photographers speaking at Photobook Bristol who have made books that focus on specific events or times in their lives, so there is a biographical thread to this year's event.
Laura El-Tantawy: Revolution, Return and the Spectre of Hope (In the Shadow of the Pyramids)
Dragana Jurisic: War, Exile and the Disappointment of Return (in Yu)
Ivars Gravlejs: School, Revolt and the Art of Photography (Early Works)
Amak Mahmoodiaan: State and Childhood (Shenanasmeh)
If you're interested in the biographical photobook,
Blake Morrison's Guide to Confessional Tropes in Literature
is a subject that is tangentially related and might be useful.
Spontaneous overflow of powerful feelings (Wordsworth) or free association (Freud)
Confession as an apologia or self-justification, a strategic bid for sympathy and admiration
Confession as a desire to shock – the memoir as a screaming tabloid headline
Confession as the desire to redefine what is shocking; to nail the hypocrisy and shallowness of polite society
The drama of the ego. Confession as performance and showmanship, its natural arena not a secret cloister but a soapbox or a stage
The confessional memoir as a piece of truth-telling – its primary impulse being to set the record straight, to bear witness
Confession as catharsis, cleansing, or purgation