image above by Krass Clement from Drum
Buy Early bird tickets for Photobook Bristol 2016 here.
'Why is Krass Clement not more well known?'. That's what Jeff Ladd asks in this review of Clement's
Novemberresse
.
It's a good question. When people talk about photographic narrative, they often confuse it with sequencing of images. And very often this results in story-telling that is uncommitted, indecisive and vague. Clement's books (he's made almost 20 of them) are anything but vague. They tell stories which are transparent, direct and full of atmosphere and emotion. And it is beautiful. And sad.
This is what Ladd says about
Novemberrejse
.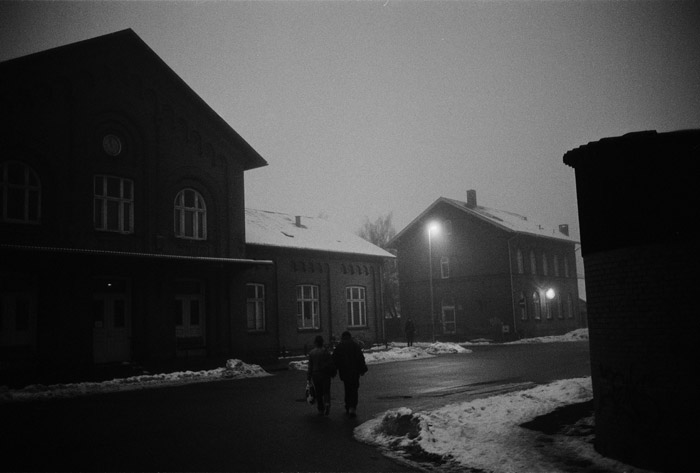 image by Krass Clement from Novemberrejse
'The book opens with a prelude of sorts. We enter a town, it is dark and the air is hazy with fog, the interior of a barber shop shows signs of life and we watch from the window a few men finishing their days work. Quickly Clement establishes through just a few photos that we are looking through someone else's eyes. This is not photography as a fly on the wall omniscient observer, whoever this protagonist is, they're made of flesh and blood and like us, they are exploring unfamiliar territory.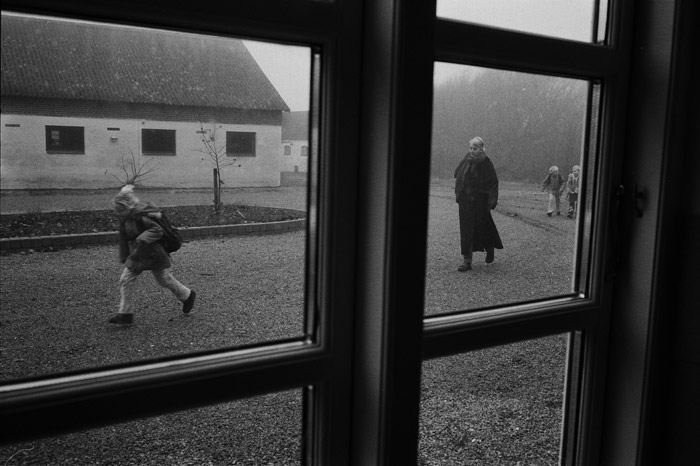 image by Krass Clement from Novemberrejse
Novemberrejse, or November Journey, is an implied narrative of a stranger visiting a small town (Rubjerg in Denmark). You get the feeling he is a stranger first from the general tenor which is a bit dark, lonely and melancholy but also because he (it seems like a man to me) doesn't seem to be able to connect with the natural rhythms of the town. He wanders observing and re-observing the lay of the land and some of the repetition of the images act as a way of establishing landmarks - familiar territory - tracing and re-tracing steps. The white building on the book's cover is seen within the sequence twice as if passed multiple times on the street.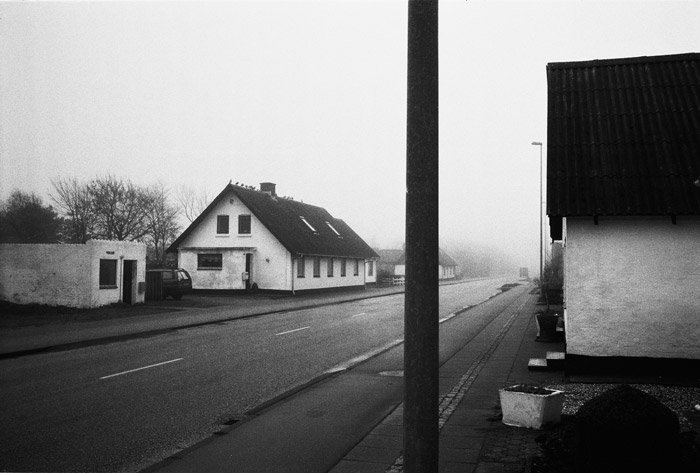 image by Krass Clement from Novemberrejse
He seems out of sync with life. The stores are mostly shuddered and for a short while the only human connection is observing a few people waiting at a bus stop across from his rooming-house window. When he is invited into the parlors or kitchens of the local's homes the warmth of new connections only lasts as far as the door's threshold before the mist and grey skies dampen spirits.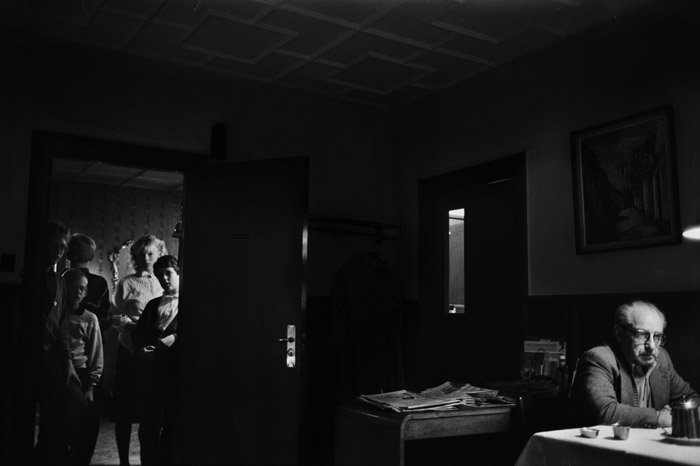 image by Krass Clement from Novemberrejse
Towards the end of his stay he is met with different servants or guides; a man in a bowtie, the hotel staff, and finally a haunting image of a ferry worker directing us onto the ship. It is dark and after the implied stasis of the previous sequence, we may be entering a boat that will either provide escape or further loneliness. The tenor is not offering much in the way of promise.'
image above by Krass Clement from Drum
That lack of promising, that essential melancholy is echoed in Krass Clement's masterful Drum. This is not just a great photobook, it's one of the greatest photobooks ever made. Shot in one evening on 3 and a half rolls of film and several pints of Guiness, it's a book about loneliness, isolation and growing old alone.
image above by Krass Clement from Drum
It starts on the country roads of rural Ireland, then moves into a busy but rundown pub filled with Irishmen down for the market. These men sit, drink, talk and laugh. All except one man, the man that Clement stalks with his Leica across the evening. This man sits alone, his eyes cast into the middle distance; to the floor, the ceiling, to anywhere they won't be met. His back turns this way and that, always away and he stares rheumy-eyed into places where his gaze won't be found. It's the most cinematic of books and it has a leading man who is a study of loneliness. It's heartbreaking.
image above by Krass Clement from Drum
Buy the Books on Books edition of Drum here.
See images from Novemberrejse on Krass Clement's website here
View the video of Novemberrejse here
Krass Clement will be speaking at Photobook Bristol 2016. Don't miss it.
We are also delighted to announced that Mariela Sancari and Ania Nałęcka will be speaking at Photobook Bristol.
So our latest list of speakers looks like this.